Hello to everybody, who are interested in audio recording.
Recording audio files (for X2-Pandora) is very easy and no magic. Everybody can do this when spending a little bit of time. You don't need to waste much money for audio recording.
What dou you need for recording audio files for Pandora?
An audio editor. Here you can use CoolEdit Pro or Adobe Audition till 2008, because it is supporting the needed scripts from Egosoft for morphing your voice into an alien voice.
The tow named scripts X2-All-Aliens.scp (mono) and x2-all-aliens_soundtrack_44khz.scp (stereo). These scrits are stored on the third disk from the "X Super Box" or you can download it fron the internet.
A microphone. But if you think, you must buy an expensive mic I can reassure you. You can use everything who has a speaker with 3.5mm jack. A headset, a earphone, your handy (if it has a voice memo function), your children's microphone, a dictaphone, of course a good special microphone If you have nothing of it, you can have a look at google. There are a lot of sites for self building a microphone.
When you have all the things at home, you can connect the mic with the "mic in"-port foir your computer's sound card. When you have do that, you must have a look in the settings of your recording device(right click at the speaker symbol in the task bar -> record devices). There must be selected the microphone as the default recording device.
Like image 1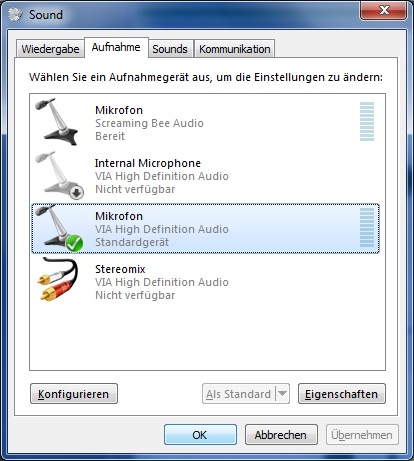 The images from windows are in german, because I have a germnan windows 7 HP
If the level meter on the right side has not a minimum of 80% during a speech test, you can correct it with the slider in the microphone settings.
Like image 2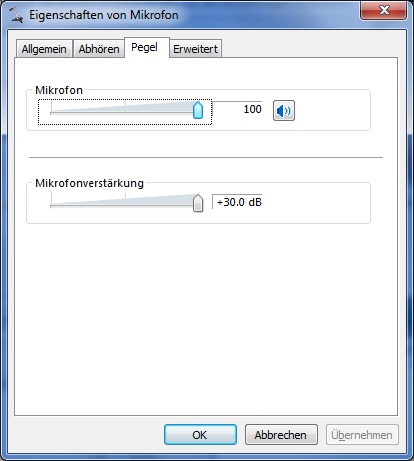 Now the level meter will be good.
Well. Open your audio editor CoolEdit Pro (or Adobe Audition) and beginn voice recording by press the red "record" button. The wave form will be printed in real time to your screen.
See image 3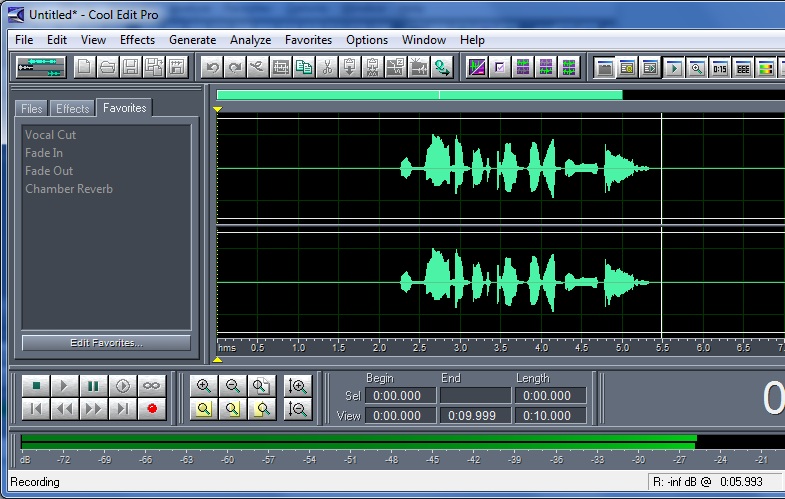 For a good sound I have changed the emty waves with silence. So the rush will be minimised. If you use a preamplifier you will not have much background noise, because this amplifier has a function to eliminate it.
If your record is ok, you can morphe it with the scripts you have insertred it in CoolEdit Pro.
(image 4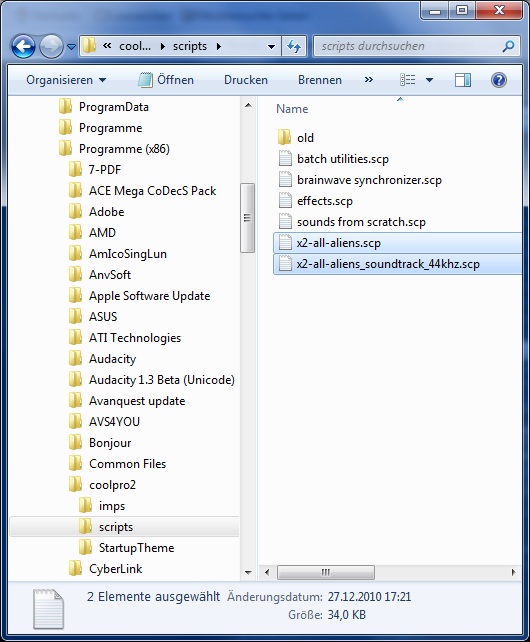 For voice morphing, go to the tab "Options" and there to the line >>Scripts & Batch Processing<<. If there is no entry, you must load a script first by clicking on "
Open/New Collection"
and mark the script you want to use.
For our little tutorial I have spoken a typical paranid text.
In the name of priest Emperor!
Without voice morphing it sounds like this:
Klick
Recorded with my old mobil phone (sorry for my bad engslish speaking
)
Because this is a paranidian text, we use the script for paranid npc. Mark it in the list and click "run script". You can let it run automatically, but at the function "Dynamics Processing" we need an other setting to remove most background noice.
Please look at the image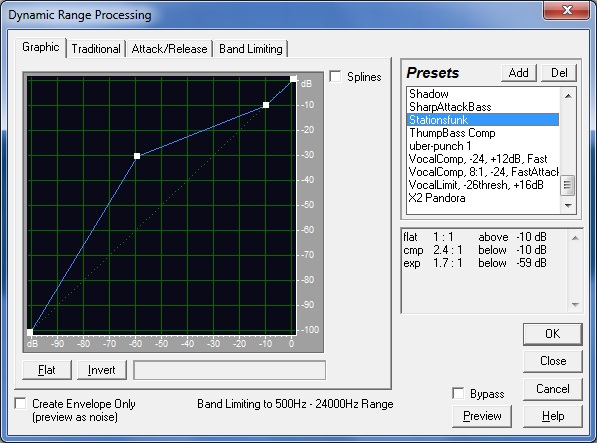 With this setting, we can reduce the noice nearly complete.
When the script is ready, you can hear this:
Klick
With this we can make some crazy things and if we have much more of this small files, we can make a new big audio file with much voices and much sounds
Well. That's all.
Have fun during voice recording and morphing